Police man slit my throat after Knocking me down.
Police man slit my throat after Knocking me down.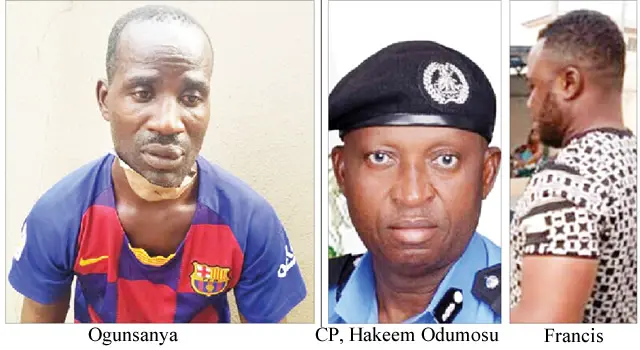 Deji Lambo
An interior decorator, Olalekan Ogunsanya, whose throat was slit by a policeman, identified simply as ASP Francis, during an argument in the Itire area of Lagos State, has expressed gratitude to God for his survival and is demanding justice for the attack on him.
PUNCH Metro had reported that an eyewitness, Samuel Agbolajo, posted details of the incident on his Facebookpage, stating that Ogunsanya was attacked by Francis during an argument.
Agbolajo also alleged that the Itire Police Division, where the case was reported, had in a bid to cover up the crime, released Francis.
Nigerians, while reacting to the post, condemned Francis' action after seeing the gory pictures of the victim undergoing an operation to save his life.
Investigation by PUNCH Metro on Thursday revealed that Ogunsanya survived the attack.
It was gathered that Francis was attached to the G1 Section, Force Criminal Investigation and Intelligence Department annexe, Alagbon, Ikoyi, Lagos.
Ogunsanya told our correspondent that Francis, while conveying his family to hospital, knocked him down with his car and when he demanded an explanation and an apology, the cop punched him in the face.
"I was very annoyed as all I wanted was for him to apologise, but he kept saying 'Do you know who I am?' He then brought out a horsewhip and a knife and stepped out of his car, but as he advanced towards my direction, I ran and picked up a saw to defend myself," the father of two told our correspondent.
Francis allegedly retreated and went back into his car and the people around restrained Ogunsanya and the policeman made an attempt to attack him again.
He said, "But I quickly blocked him from coming down from his car, I pinned him down to his car and gave him a few punches until the people dragged me back. After he disembarked from the car, he used the horsewhip on me and the knife to slit my throat.
"We kept on fighting and I never knew I was bleeding heavily until people called my attention to it. His wife quickly went to report at the Itire Police Station and we both went there as people were scared of coming close to us. When we got there, he kept saying that he would ensure that I was jailed.
"The police called a photographer to take my pictures and gave me a report to go to hospital for treatment. I gave the person, who posted the incident online the permission to do so, because I want justice. Those who saw when I was being treated didn't believe that I would survive.
"People thought that I had died but I thank God that I am alive. I am feeling pain around my neck. If I was the one who injured him the way he did to me, I will be in a cell by now, but because he is a policeman, he was released."
When contacted, the state Police Public Relations Officer, Bala Elkana, said there was an altercation between the policeman and Ogunsanya, adding that the command had launched an investigation into the incident to ascertain what truly transpired.
He stated, "Our division at Itire got a complaint from the wife of the police officer, she said her husband was taking her and their kids to hospital for an appointment for their daughter who was to undergo a surgery. But when they got to the traffic point around Lawanson, vehicles were going at a slow pace and Ogunsanya suddenly passed in front of their vehicle.
"She said her husband was even cautioning him but the man turned back and punched him. So, the husband became aggressive, parked and came out of the car and started fighting with Ogunsanya.
"During the fight, they both sustained injuries and we later identified the woman's husband as a serving officer attached to the FCIID annexe in Ikoyi, while Ogunsanya is an interior decorator. Medical attention was given to Ogunsanya and the cut he got was stitched.
"According to the policeman, Ogunsanya attacked him with a weapon and while defending himself, Ogunsanya used the weapon to injure himself.
"But the man said the policeman was the one who brought out a knife from his car and attacked him with it. Investigation is ongoing to find out what actually happened. The fact remains that there was an altercation between them and there was an exchange of blows, but the man is alive and not dead. We have launched an investigation into the case."
Share this post with your friends on
0 Responses