Shocking: transgender woman spends £42,000 to turn her self into a Dragon
Shocking: transgender woman spends £42,000 to turn her self into a Dragon
We have seen weird things in this century. And gradually, the world is rolling on its belly to accommodate a lot of oddities. We have seen crossdressers. We have seen transgenders. We have seen people argue over the fluidity of gender. But what I'm sure you have never seen is a transpecie between a human and a reptile.
Formerly known as Richard Hernandez, the banker who worked for 15 years at Chase Bank in the United States, decided to shake things up and become a woman. She changed her name to Eva Tiamat Medusa. But this would not be the last of the changes.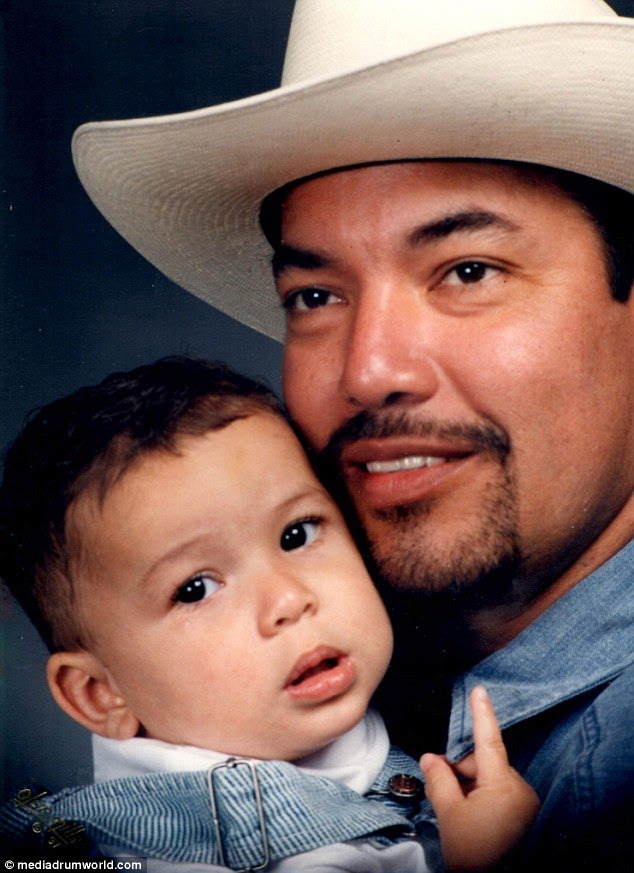 Eva and son, as a man. (pic above)
In the years that followed, Eva, now popularly known as Dragon Lady, started to nurse a very old desire of becoming a reptile, after she was diagnosed with HIV. The diagnosis strengthened her resolve to not die as a human.
She claimed that her decision to become a reptile wasn't just a spur of the moment. According to her, she was born again under the care of a rattlesnake after being abandoned by her parents when she was just five years old.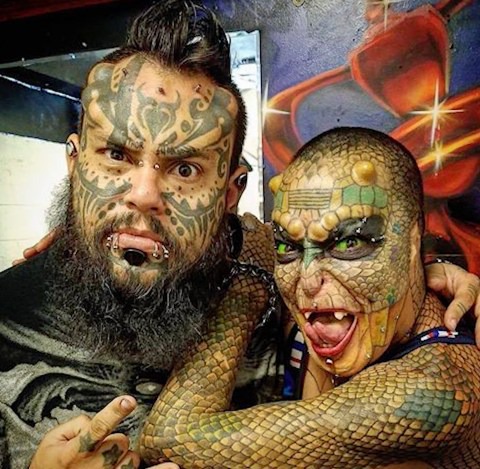 Eva began her transformation with a series of scale tattoos, this was quickly followed by a reshaping of the nose, removal of her ears, and then staining her eyes green. These operations amount to a whooping £42,000!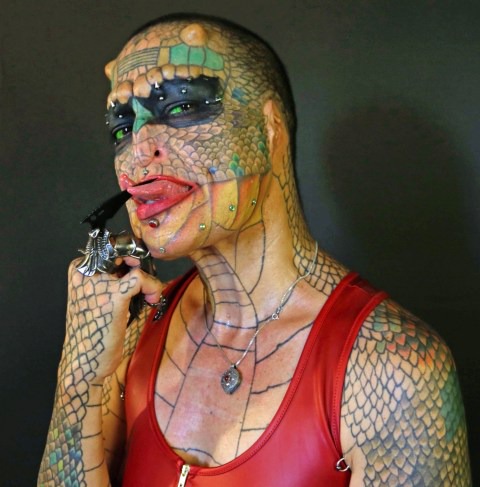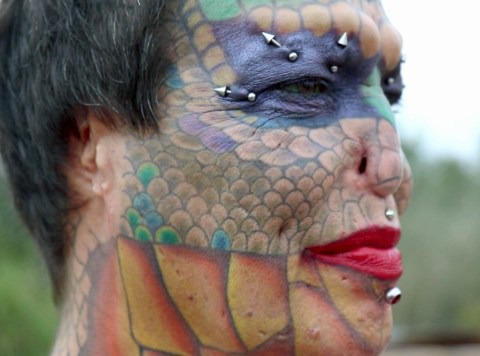 Speaking to The Wizard of Odd TV, she enthused that the transformation has been the greatest journey of her life.
"I hope that my story will help other people – not only those who have gone through hard times, but also people who have lost hope." She said.
This is indeed a strange development and it has certainly set tongues wagging, but Eva is not in the least bothered.
"I don't care what people say about me or my views, and if I have to I will defy and stand alone against the world, but never will I make any compromise to my integrity"
End time?
Share this post with your friends on
0 Responses